Vapesoul Vslim – "a moldy novelty"
Vapesoul Vslim – "a moldy novelty"
On the thirty-fifth day of our marathon "not a day without a new AIO", I suggest you get acquainted with not so new from Vapesoul. These guys tirelessly rivet devices, mostly of the "entry" level, and have already gonebble up a decent assortment. However, for some reason their products are not particularly widely represented in the global vape market. The reasons for such cases are unknown to me, although I must admit, at first glance, the products are quite decent.
Vapesoul Vslim

Dimensions: 78.5 x 43.5 x 25mm
Weight: 185g (error may occur)
Case material: stainless steel
Power: built-in 1500mAh
Cartridge capacity: 2.5ml
Evaporator resistance: 0.5Ω
Output power:up to 30W
Voltage range: 3.2 – 4.2V
Operating mode: POWER
Protection: against low / high resistance, from overheating, from short circuit, from overcharging / overdischarge
Screen / diagonal: no
Micro-USB port / charging: yes, charging current unknown
Color : see photo below

Options
– Vslim mod
– replaceable cartridge 2pcs 0.5Ω (one preinstalled)
– USB cable
– user manual
– warranty card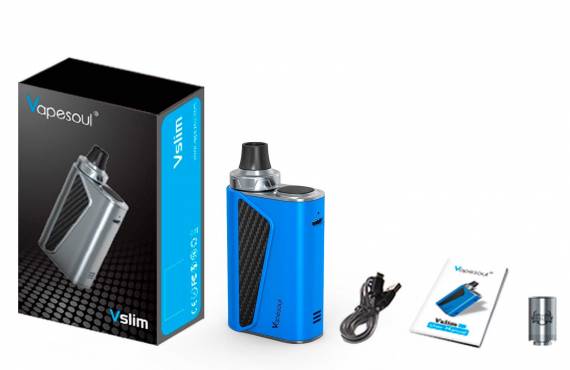 The appearance of our hero is somewhat old-school, and, indeed, the device is far from new. I decided to return you, so to speak, briefly to the past. This set is not spoiled by decor, except that the pseudo-carbon inserts on the sides slightly vulgarize the exterior.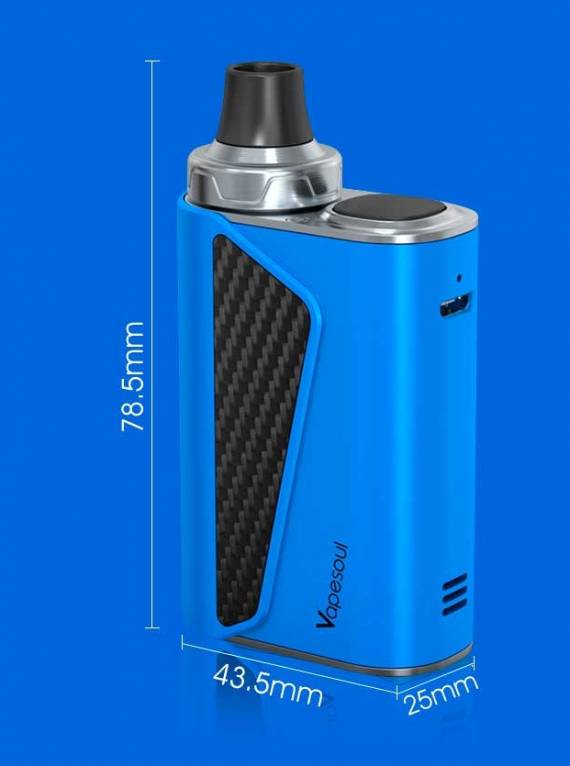 The palette of design options is not the most meager, and there are also juicy options.

The drip type and the lid of the fluid compartment are one piece. By the way, the capacity could be washed down more. The evaporator is replaceable, decent resistance, by the way.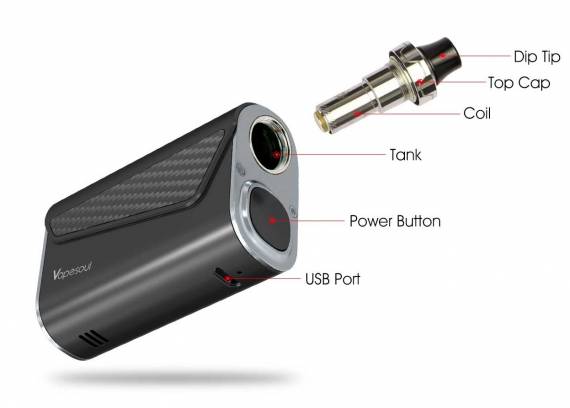 The developers have provided a window to control the refilled liquid, even applied a strip with the maximum level of refueling.

Right next door is a large fire button. It is planted favorably, which means that ergonomics promises to be decent.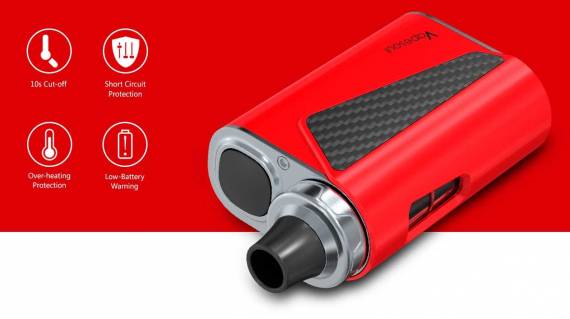 Built-in battery of decent capacity, however, the dimensions of this instance are not small. The charging current is unknown – this process is unlikely to be fast. The causal connector on the smaller end of the device. Here, by the way, you can see a very shallow point of the LED indicator.

The air intake here is executed curly – in the farthest corner from the evaporator. One of my acquaintances used to say the following in such cases – "ten times around the leg, through … opu to the boots." Sorry, but it seems to me that it's impossible in the topic.

I almost forgot – adjustable airflow – with the owner's finger)))