Medo Pod System – just for information
Medo Pod System – just for information
And again, we are new to MedoVape. Probably these guys come from China. They have not yet had time to walk on fat, so today we will get acquainted with their pilot project. As usual at the very beginning, the manufacturer does not particularly bother with "communication" with a potential client by providing comprehensive information about his new product. Our new friends did not become an exception, therefore there will not be so many photos, and maybe there will be enough of them – we'll see.
Medo Pod System

Dimensions: 92 x 25 x 10mm
Weight: 31g Case
Material: Plastic + Aluminum Alloy
Power: Built-in 500mAh
Cartridge Capacity: 2ml
Evaporator Resistance: 1.5Ω
Output power: 11W
Operating mode: POWER
Protection: against low / high resistance, from overheating, from short circuit, from overcharge / overdischarge
Connector type: magnetic
Screen / diagonal: no
Micro-USB port / charging: yes, charging current about 0.5A
Color: see photo below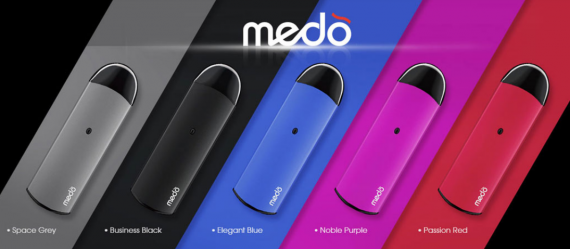 Options (likely)
– Medo Pod System
– replaceable cartridge (preinstalled)
– USB cable
– user manual
The exterior of our guest is quite decent, he avoided the vulgar decor, screaming inscriptions and acid colors. A modest, maybe even a strict vape stick, the dimensions of which are not the smallest. Therefore, ergonomics, although it will be decent, but frank stealth from such a device is definitely not worth waiting for.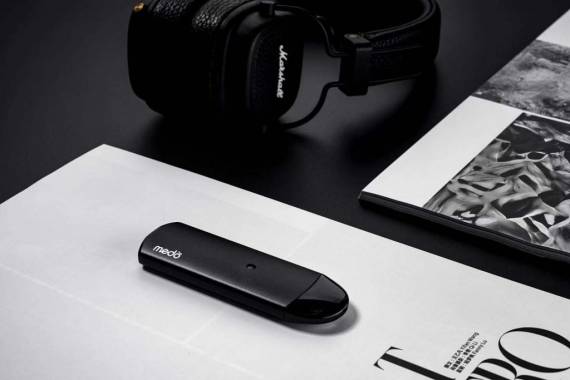 But the developers have gone a long way in terms of the assortment of design – five colors are available right from the start.

Cartridge standard capacity, fixed with a magnetic connector. It will probably have to be refilled from below.
Evaporator resistance is also average.

The main body is hidden under an aluminum frame. On the front side, besides a small dot of LED, you will not find anything remarkable. The device is activated by tightening.

The built-in battery of medium capacity is hidden inside, it seems that a large one could fit in such a case. It will take a little less than an hour to charge, the developers have placed the causal connector on the bottom of the device.