Uwell Blocks 90W Squonk mod – an interesting "brick" squonk
Uwell Blocks 90W Squonk mod – an interesting "brick" squonk
I am returning moral debts, namely, I am introducing you to the second novelty, which Uwell has taken advantage of. She became a brand new squonk mod, but not simple, but with a very original construct. Let's start the preparation, because there is something to see.
Uwell Blocks 90W Squonk mod

Dimensions: 93 x 49 x 25 mm
Weight: 162g
Case material: zinc alloy, ABS plastic, stainless steel
Power: 1 x 18650
vial capacity: 15ml
Output power: up to 90W
Mode: POWER
Supported resistance: from 0.1Ω
Protection:low / high resistance, overheating, short circuit, reverse polarity, overcharge / overdischarge
Connector type: steel 510, gold-plated pin, spring-loaded
Screen / diagonal: no
Micro-USB port / charge: yes, charging current unknown
Color: see the photo below.

Options
– Blocks 90W Squonk mod
– USB cable
– user manual
– warranty card
So, the brick form factor. In defense, it is worth saying that the dimensions are quite compact, but our hero is a one-janitor, so there is nothing surprising here.

By the way, the developers on this occasion promise the user to operate with one hand, which is quite convenient.

Color prints act as the main element of the decor, the color of the case also varies. There are no "clean" versions yet, and in general there are not so many choices – only three.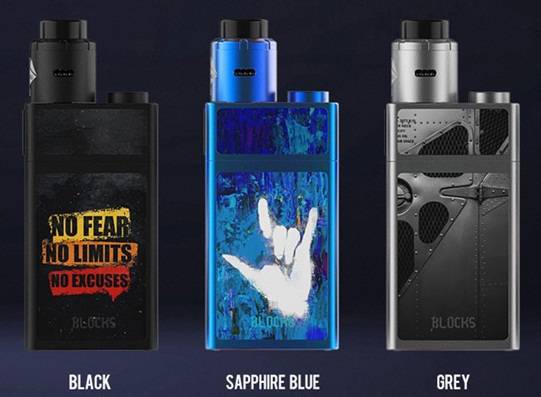 The landing pad as such is absent – atoms land directly on the hull. Stock margin is likely to be 25mm.

Immediately we observe a rather large, but pointed-out pump button. It activates a certain patented technology for pumping liquid to the atomizer, and here the dispenser mechanism will be implemented – each press provides an inflow of slurry with a volume of 0.13 ml.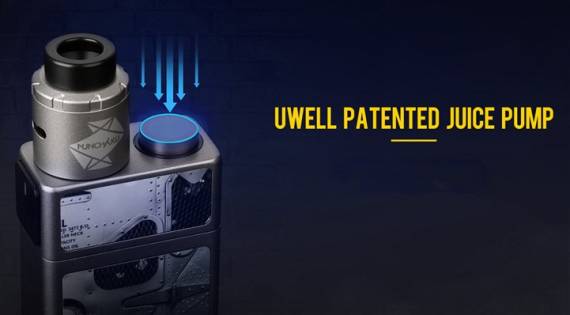 We pass to the fire button, its edges are not so sharp at the same time it is quite massive – almost the entire width of the squonk mode. A small LED indicator has settled in its center.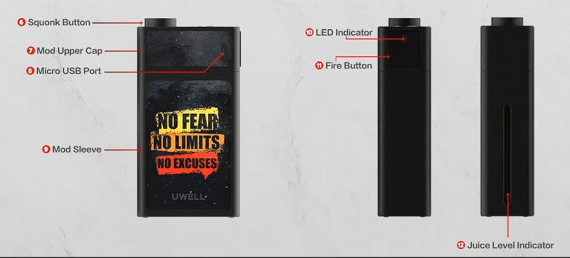 On one of the sidewalls we notice a connector for charging the only possible battery. Charging current is not reported, it is likely to be within 1A.

On the back smaller end you can see a slot to control the level of liquid in the bottle, the latter is made of food-grade silicone. Moreover, its capacity is simply incredible – a good 15 ml.

In order to get into the inside of the box, you need to pull on the top and, as it were, get it out of the metal case-cover. Thus, access to the bottle for refueling and the sleigh for installing the battery. This whole structure is fixed inside, as I understand it, with spring-loaded "balls", or whatever they are called right there.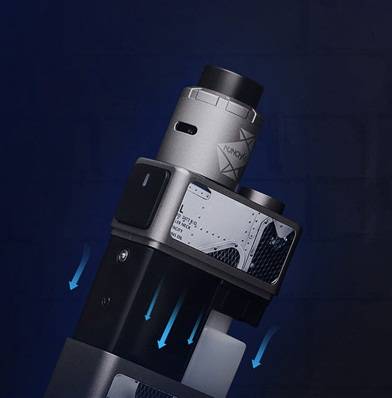 Unfortunately, the developers did not really show us this, apparently we will have to wait for detailed video reviews.