Rincoe Mechman 80W Mesh Kit
long time ago I longed for this brand to visit. And all because the manufacturer Rincoe is still a newcomer to the market, although he has already managed to acquire a decent assortment of devices. So my sporting interest consisted in assessing precisely the quality of performance, filing – if you like, the surroundings in general. Let's start our acquaintance with the latest news.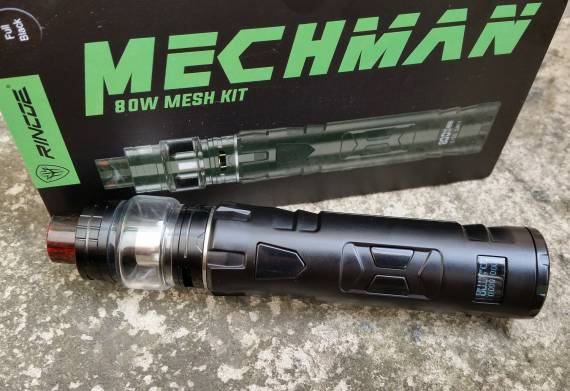 Dimensions: 95 x 28mm
Weight: 106 g Shell
material: zinc alloy + plastic
Power: 1 x 18650
Output power: 1 – 80 W
Voltage range: up to 8.0
V Peak current: 30 A
Operating mode: POWER, TC (NI200 , SS, TI), BYPASS
Temperature range:200 ℉ – 600 ℉ / 100 ℃ – 315 ℃
Supported resistance: 0.08 – 5.0Ω / TC 0.05 – 3.5Ω
Protection: against low / high resistance, from overheating, from short circuit, from reverse polarity, from overcharge / overdischarge
Connector type: steel 510, pin gold-plated, spring-loaded
Screen / diagonal: yes
Micro-USB port / charging: yes, charging current 0.85A
Color: see photo below

Mechman mesh tank
Case material: stainless steel Atomizer
type: maintenance-free
Evaporators: 0.2 / 0.25Ω
Capacity: 4.5ml
Diameter: 25mm landing / 28mm dough for glass
Height: 46mm with drip type / 36mm without drip type
Connector: 510, pin gilded
Weight: 58.5g
Color: see photo above
Options
– Mechman 80W mod
– Mechman mesh tank
– replaceable evaporators 2pcs 0.2 / 0.25Ω (one pre-installed)
– spare origins
– spare glass
– USB cable
– user manual
– warranty card

We begin with non-service, and I suppose we won't stay long, because it looks the most ordinary. Such a lot, of course, is only in sets – no one will buy it separately. It looks quite simple, except that the dimensions are not particularly large, compared with colleagues.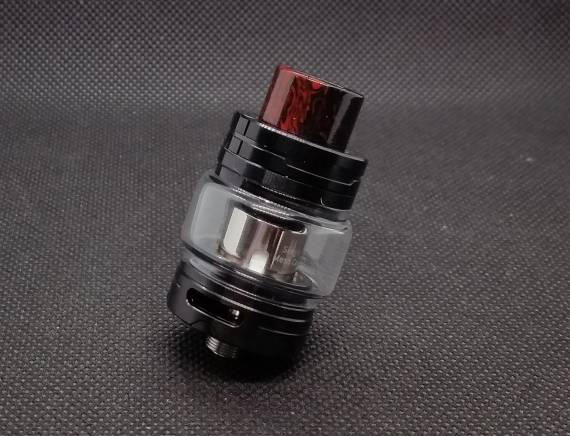 Drip type of acrylic, landing of its own size – two-ranking. It feels like it's a normal specimen. He sits in a sliding cover, under which, in turn, hides a medium-sized filling hole. Tight move – accidental opening of this tank does not threaten for sure. Capacity, by the way, is not bad.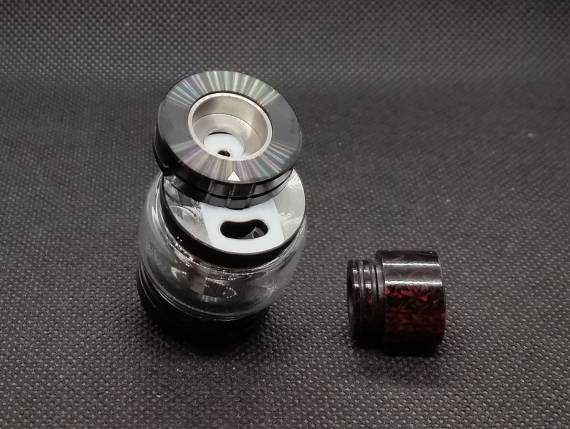 There are two types of replaceable evaporators, both of which are made on a grid. I can't say that this non-service has an outstanding flavor – the normal average level inherent in many specimens with a similar "fate" is to be a companion of any mode. In a word – nothing outstanding.

Airflow control is implemented using a slightly loosening swivel ring. The puff turned out to be quite loose, moreover, also noisy.

But the pipe model is a nice person. And although I am not a fan of such decoration – a lot of bulges and bulges, faces, scratches, etc. – I even liked him with something. Nevertheless, its design is not particularly flashy – you couldn't but benefit it. In short, a solid four, but definitely without falling into the soul.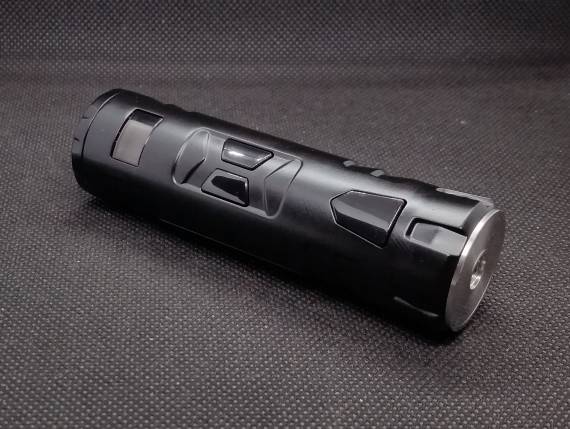 Steel landing pad, there is a groove from sticking. The maximum aesthetic fit is provided by atoms 25mm in diameter. Again, a strange decision – why not choose the most popular diameter – apparently the constructive blame for everything.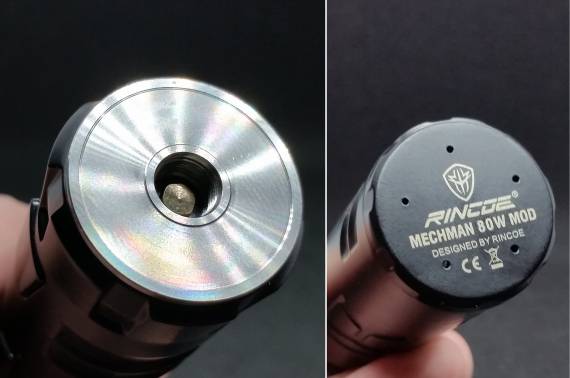 But the strangest thing here is the thickness of this pad – because it is exposed from under any atoms, treacherously contrasting in my case with the color of the case.

The control panel perfectly mimicked the overall decoration. All the buttons are plastic, the fire, as for me, is not in the most pleasant form – thanks for being elongated. The move is small, click clear and clear. He is blindly at a time. The musical accompaniment of the remaining keys is not so loud. The display is small, the brightness is sufficient, unregulated. Information is provided at the very minimum, it is readable acceptable. The charging connector, as usual, is on the opposite side. I did not find the claimed current in 1A.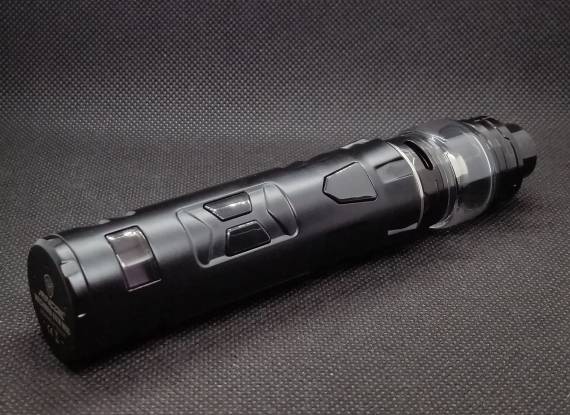 Access to the battery compartment from the bottom. The cover with the risks of decent relief loosens comfortably, the thread is medium in size and medium in length. Getting into that is easy. The plus and minus contacts are gold plated.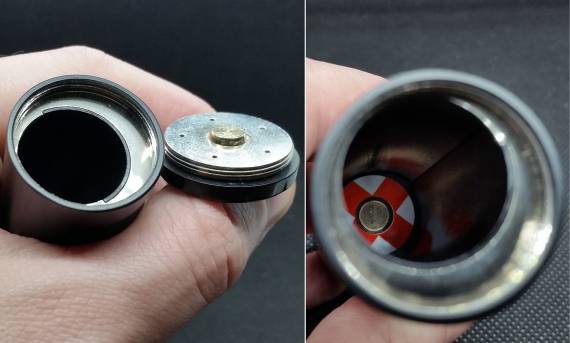 In operation, the pipe mode proved to be quite normal – the resistance reads correctly, displays the charge adequately, and claims about its consumption also did not arise. The output power in my personal experience is not underestimated. The functionality here is not bad, considering the form factor – the thermal control on my copy behaved decently, and I can't find fault with the bypass. Of course, this mod is not designed to accelerate something greasy – after a few puffs, it complains about 0.1 resistance, saying that it's too hot for it. In general, high-quality, normal – everything is at a decent level.

Impressions
The main issue for me was the question of trust in the brand – namely, the quality of execution, and, in general, the "attitude" towards the buyer. I can say for sure that these guys came to business far from their sleeves – you can trust such people, or maybe you need to. A solidly assembled specimen, this can be safely considered for purchase. The most positive features of it are the low cost, both fashion and the set as a whole, good design and workmanship.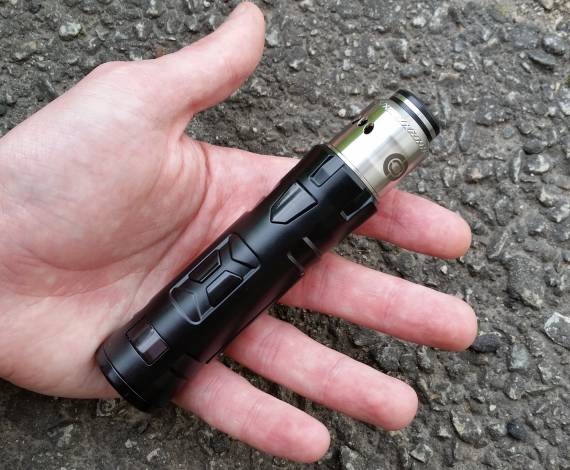 For myself, I decided – you can take it, with pleasure I will get acquainted with the rest of the manufacturer's model.