The Dovpo D-Salt Pod System is a seriously tuned salt man
Today cannot but be marked by a new AIO. Yesterday we took a break, I suppose that was enough for you. The next step is a simple set from the "promising" team of the Dovpo brand. This is not their first experience in such a segment, therefore we are waiting for a more or less decent result.
Dovpo D-Salt Pod System

By the way, for some reason, the developers decided not to scatter detailed information about the new product, as they did not share decent photos. We will be content with what we have.
Dimensions: 118 x 22.2mm
Weight: unknown
Case material: plastic + metal
Power: built-in 1500mAh
Cartridge capacity: 2ml
Evaporator resistance: 0.5Ω
Output power: up to 26W
Voltage range: 3.0 – 4.2V
Operating mode: POWER
Protection: against low / high resistance, from overheating, from short circuit, from overcharge / overdischarge
Screen / diagonal: no
Micro-USB port / charging: yes, current 1A charging
Color: see photo below

Package Contents
– D-Salt mod
– replaceable cartridge (preinstalled)
– USB cable
– user manual
– warranty card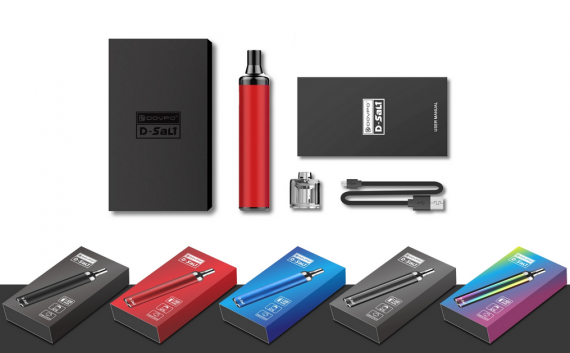 The appearance is quite neat – without pathos decor, and the form factor can be said to be the most classic – the profile is round. If our hero is not "slim fit" in thickness, then in height he remains very compact for his cut.

The color scheme from the start does not shine with a special delicacy in the form of pastel colors, but all the "basic" design options will be available.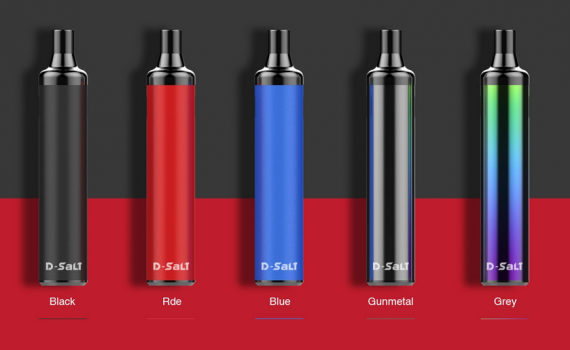 The drip type is made of plastic, landing is 510th. Under it is a lid on the thread, under which in turn a removable reservoir or cartridge is hidden. As I understand it, the last one will refuel from above, and the built-in evaporator will not be replaceable.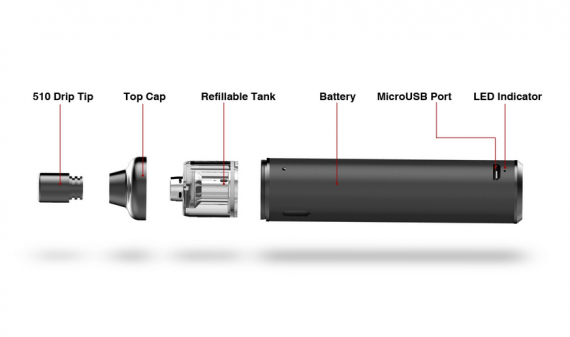 By the way, the latter is executed on a grid, the resistance is quite low for a tandem with salt nicotine. Moreover, according to the assurance of the developers, dtl tightening is implemented here. So it is likely that it is designed for liquids with ordinary nicotine – but wait, where does the name come from.
The cartridge is elegantly hidden in a probably aluminum case, a small window is provided to control the liquid level inside.

There are no buttons on the body of the device – which means it is activated by tightening. At the very bottom you can see the shallow dot of the LED indicator.

The built-in battery is decent, as it seems to me, for such capacity dimensions. It is destined to charge to the brim for about an hour and a half, the causal connector is placed on the base of the device.

The price is currently unknown, since the novelty has not yet been announced on the shelves of all well-known online shoppers.