Uwell Crown Pod System kit – not so royal under
Today we spend at the company POD-s. The last ones on the vape market appear many times more than other devices – this is far from news. Our first guest is another "royal person" from Uwell. Tanks with that name were, mods were, now, probably, the time has come for the simplest.
Uwell Crown Pod System kit

Dimensions: 95.6 x 30 x 18mm
Weight: 61g Case
material: aluminum alloy + plastic
Power: built-in 1250mAh
Cartridge capacity: 2.0 / 3.0ml
Evaporator resistance: 0.6 / 1.0Ω
Output power: 25W
Operating mode: POWER
Protection:from low / high resistance, from overheating, from short circuit, from overcharging / overdischarge
Connector type: magnetic
Screen / diagonal: no
Micro-USB port / charging: yes, charging current is unknown
Color: see photo below

Options
– Crown mod
– replaceable cartridge 2pcs 0.6 / 1.0Ω (one preinstalled)
– USB cable
– user manual
– warranty card

Appearance in a compartment with the selected form factor does not carry anything original. Dimensions are not the smallest – stealth here is hardly possible. The decor is a graceful pattern on the front side. The rest of the design is traditionally strict.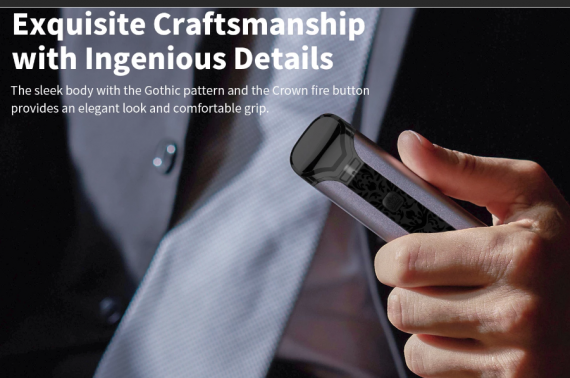 The color scheme from the start is not the most extensive, but exotic options do occur.
A replaceable cartridge of good capacity, it will be refilled from above – just remove the mouthpiece. It is not necessary to remove a tank from the mod for these purposes.

Airflow adjustment is provided – a special slider is located on the side of the cartridge.

The resistance of the built-in evaporators varies, so the developers have two separate cartridges. Both will be present in the kit.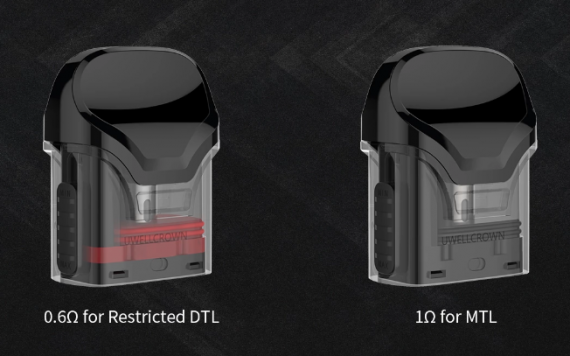 The main body is rich in one single button. It can not only lock or unlock the device, but also can activate it. In addition, the device can start by tightening.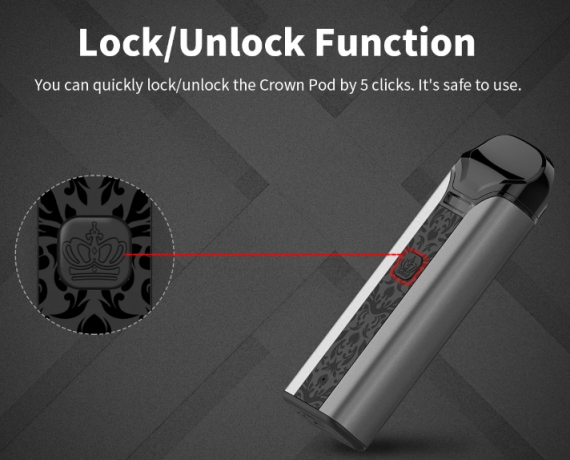 The built-in battery is of good capacity, but its charging current is not known for certain. The causal connector is located at the bottom of the device. In addition, the shallow point of the LED indicator was neatly attached to the base of the device.

No adjustments – power or output voltage – were provided by the developers.