Vapemons GEARbox mod
Vapemons brand is unfamiliar to you. So it was with me until recently, however, not even six months have passed since we met, their novelty crawled up to me, which now you can't even call. I want to note that this is the flagship boxing mod of the manufacturer, but its products are rarely found anywhere. Nevertheless, we get acquainted, he has a couple of chips.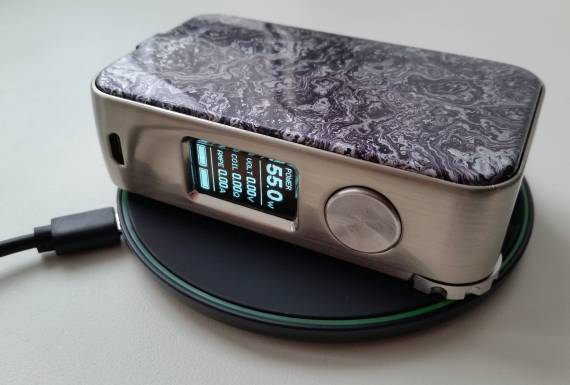 Dimensions: 92.5 x 56.5 x 28mm
Weight: 151g Case
material: stainless steel
Power: 2 x 18650
Chipset: VM Omni board 4.0
Output power: 5 – 226W
Operating mode: POWER, TC (NI200, SS, TI), BYPASS
Temperature range: 200 ℉ – 600 ℉ / 100 ℃ – 315 ℃
Supported resistance: 0.03 – 5.0Ω (Super Player Mode Only)
Protection: against low / high resistance, against overheating, against short circuit, against reverse polarity, against overcharging / overdischarge
Connector type: steel 510, gold-plated pin, spring loaded
Screen / diagonal: yes, 0.96 "
Micro-USB port / charging: yes, charging current 0.75A wired, 1,4A wireless
Color: see photo below

Options
– GEAR box mod mod
– USB cable
– user guide
– docking station for wireless charging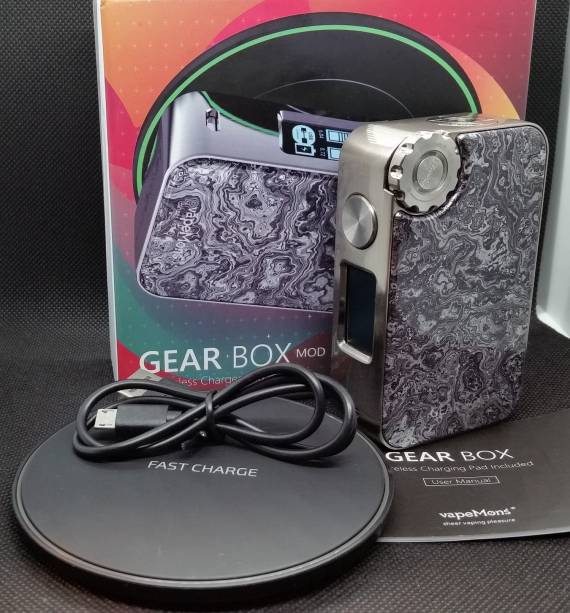 Our guest looks good – there are original elements such as a control gear and panels with a peculiar pattern. I will not say that you feel special pleasure in holding it for the first time in your hands. Yes, it looks interesting – but every now and then there are flaws in the quality of execution (I'll tell you about them along the way) and the panels, although the print is quite interesting, they look somehow cheap. Although still if we disengage, the normal mode is average.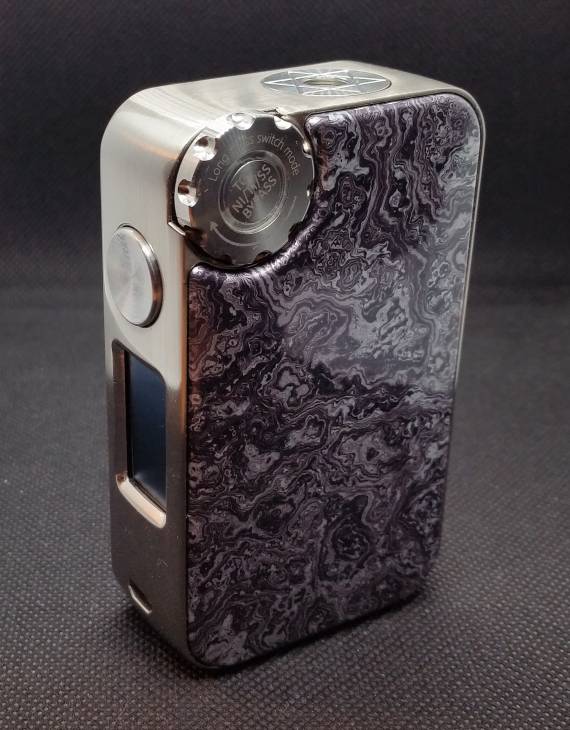 The landing pad is made of steel, on it is the star of David, which seems to be so called. It rises a little above the main body, so the atoms do not crawl on it when winding, the paint of which, by the way, is very susceptible to scratches. The most aesthetic fit is provided only to atoms 24 mm in diameter, despite the large width.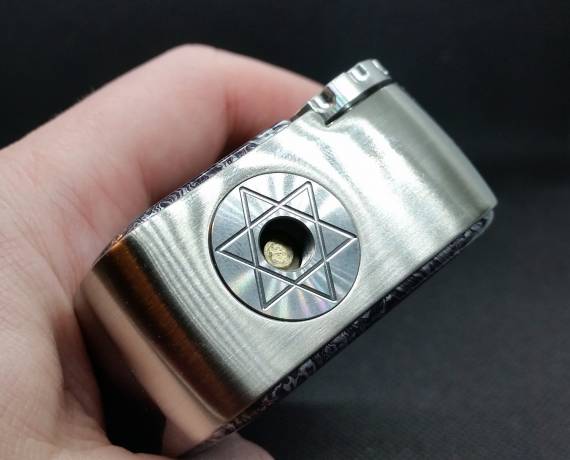 The control gear replaced the plus and minus buttons, as well as the function of switching the steam modes on it. The recesses on it are islandy, but not too much, the course is smooth, stepwise. Using is quite comfortable. Also, an LED indicator is built into it.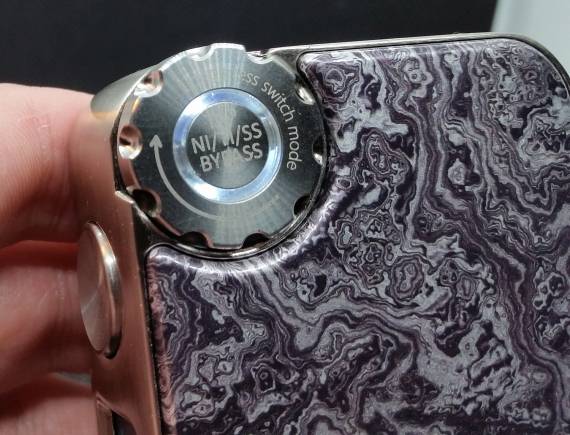 The control panel consists of a metal fire button with a concave profile and a small display. As for the first one, it is convenient in principle, the move is small, the click is loud. But she hangs so godlessly in a metal case and accordingly strumming, that sometimes she doesn't even want to pick up boxing mods.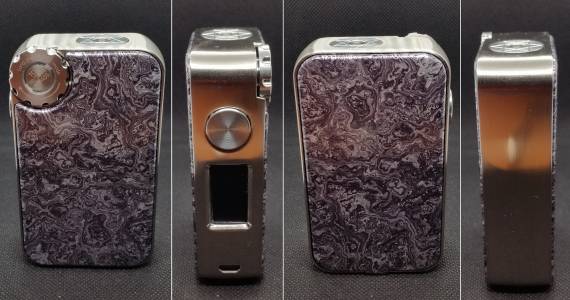 The display is quite bright, the information provides articulate. But here it could not do without "vileness" – in my case it is installed crookedly relative to the cutout in the case. Therefore, even unattended areas are visible. I admit that this is an isolated case, but the sediment remains, whatever one may say.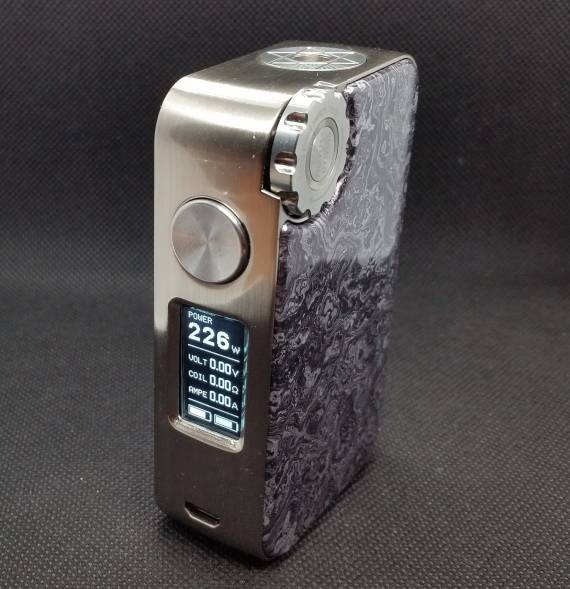 Immediately at the base of the control panel you can see the connector for charging batteries, charging through this port it is carried out by a small current of 0.75A. Plus, there is the possibility of wireless charging, and there is a docking station for these purposes. It is small – diameter 100mm. There is a connector for connecting the lace and LED indication around the perimeter.


On wireless charging, too, not everything is so smooth, basically it gives out about 1.4A, but sometimes it rises even to 2.2A. Rarely, but it happens that this indicator jumps. I am not a particularly experienced user of wireless chargers – perhaps these are its features. In order for the box to charge, it must be put on the docking station without fail with the end face with the gear. In general, the feature is convenient and it works.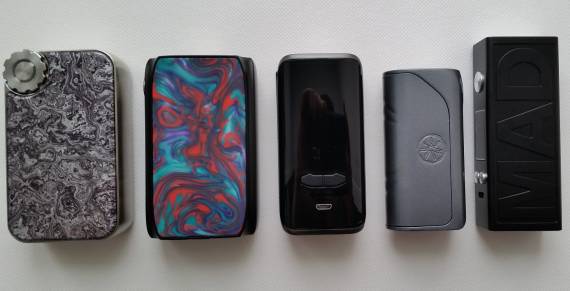 The removable side panel, which is fixed by six magnets and sits securely, with almost no play, hides the battery compartment. The key at its base for ease of removal is. The contacts are probably gilded and well spring loaded, however, they handle the batteries carefully. A tape is provided for convenience.


Well, now let's get started on the chipset. As you noticed, it is called Omni board 4.0. At first I was also surprised and delighted – after all, such are the people who use the Vaporess team. However, the joy was short-lived – I did not pay attention to the registry at the beginning, namely, "VM or Vapemons". So, we probably have our own development of the manufacturer. In general, the functionality is not bad, and its management is decent, but there are drawbacks to the work.


Resistance often jumps, even if only a few hundredths of an ohm, but somehow not particularly nice. In terms of output power, as it seemed to me, the mod is significantly fancy, that is, the actual wattage is less than the value displayed on the screen. Plus, the chipset often goes into protection against overheating – the inscription "too hot". Moreover, on a drip with a snap of 0.1 this happens literally a field of several puffs from a cold start. And this is not all – I even achieved this unpleasant inscription, driving a tank of 17W, however, it took a lot more puffs. Plus, during operation, a decent heating of the mod is felt in the area of ​​the charging connector.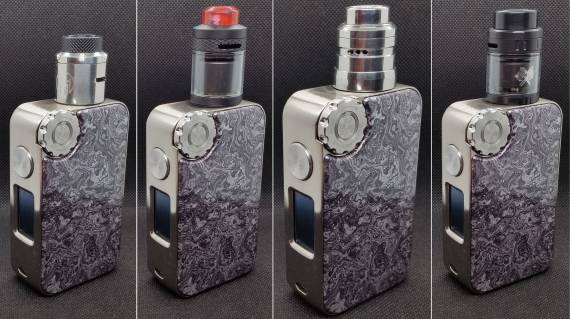 Impressions of use
An entertaining boxing, however, it completely disappointed me – it is understandable, if at least the control chipset worked without complaints, then you could close your eyes to the flaws as a performance. And there's nothing to say, and the price tag cannot be said to be tempting. And yet I found a couple of cherries even in this one – this is an original construct and the ability to wirelessly charge.