Cool Vapor STAN 200W MOD – for the smallest
Cool Vapor STAN 200W MOD – for the smallest
The Cool Vapor company does not often please us with new products and sometimes we even forget about its existence. By the way, as far as I know – it has a certain relation to the Asmodus digging group. This time, the manufacturer was enriched with two sets at once – delicious photos have already gone to do their thing on social networks. However, there has not yet been an official release. Therefore, I had to collect information and photos from "the entire Internet" – there may be gaps and suspense.
Let's start with the boxing mod, because there are at least notes about it in online shops, for which they are very grateful.
Cool Vapor STAN 200W MOD

Dimensions: 88 x 50 x 31mm
Weight: 87g Case
Material: Zinc Alloy + Plastic
Power: 2 x 18650
Output power: 5 – 200W
Voltage range: 1.0 – 8.0V
Operating mode: POWER, TC (NI200, SS, TI), VV, Mechanical mode
Temperature range: 200 ℉ – 600 ℉ / 100 ℃ – 315 ℃
Supported resistance: 0.1 – 3.0Ω
Protection: against low / high resistance, against overheating, against short circuit, against reverse polarity, against overcharging / overdischarge
Connector type: steel 510, gold-plated pin, spring-loaded
Screen / diagonal: yes, color, 0.96 "
Micro-USB port / charging: yes, charging current is unknown
Color: see photo below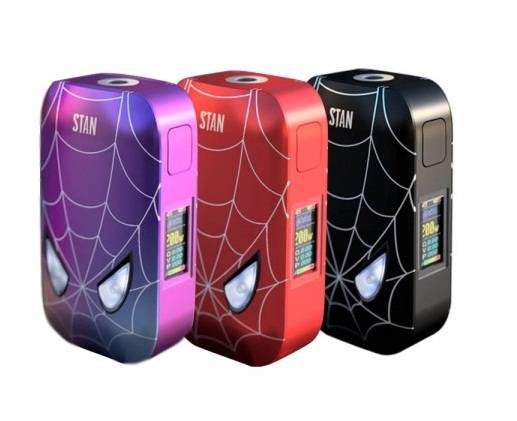 Options
– STAN 200W mod
– USB cable
– user manual
– warranty card. The

exterior of our hero is not enough to say toy – the developers decided to storm the theme of superheroes. Probably, this idea was prompted by a recently released one, however, the Avengers film, breaking all conceivable and unthinkable records for the fees. Therefore, they decided to decorate their soap dishes, namely their novelty and reminds, in a similar way.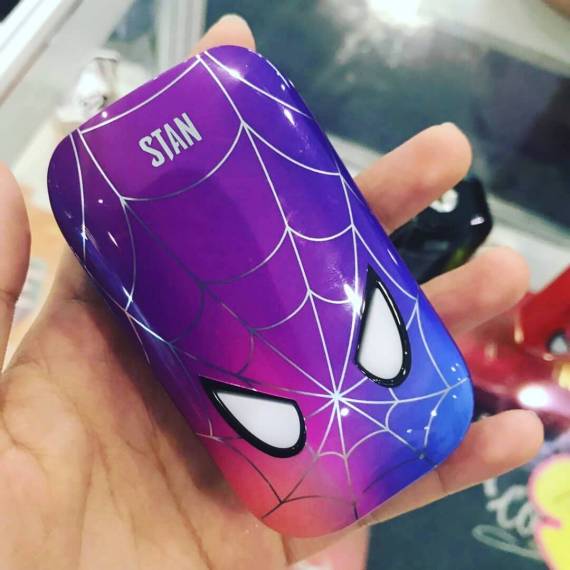 In total, three options are offered from the start – not a lot of course, and from the classics only a dark color.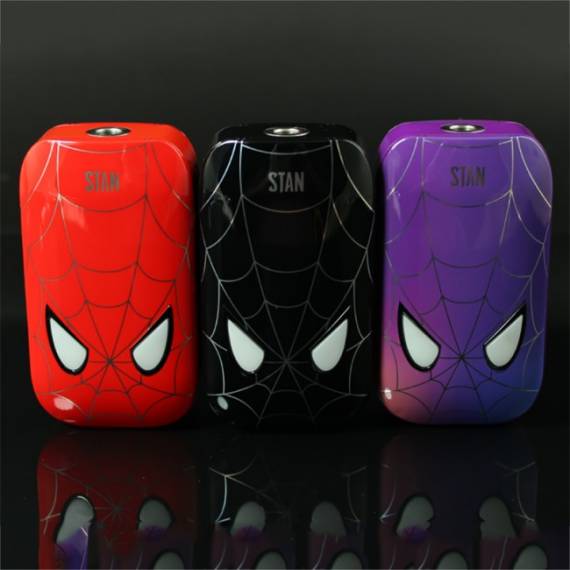 Steel landing pad, maximum landing margin unknown. Boxing mod is not particularly worth relying on in this regard, for our hero is a very pot-bellied instance.

The control panel is in the "standard" location. Crowned with its decent size is the fire button, below the color display is the standard diagonal.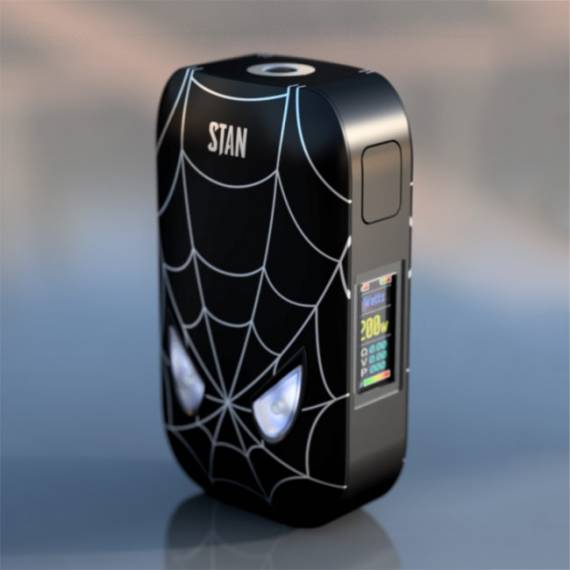 But the control buttons were removed on the side, they are made in the form of slanting eyes. Moreover, as I understand it, LED indicators are also built into them. Well, that's it – the schoolchildren ran to beg or pry money from their parents' wallets.