Digiflavor Lunar Kit
Today, my guest is again an interesting guest, and he was interesting to me for many reasons. Firstly, it's accessibility, secondly, the brand's eminence (these guys don't do boxing mods so often), and thirdly, reviews from reviewers – some of whom buried him online.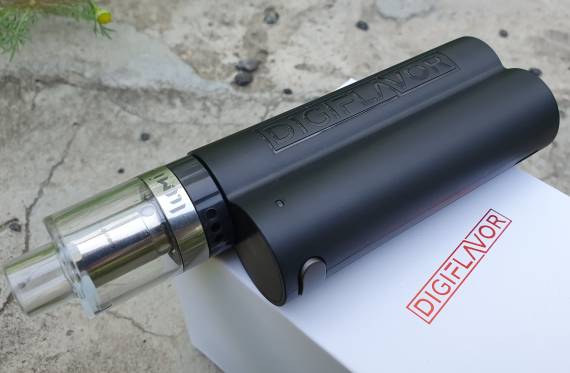 Dimensions: 90 x 45 x 25mm (mod only)
Weight: 51g Case
material: ABS plastic + metal
Power: 2 x 18650 (parallel connection)
Chipset: AS chipset
Voltage range: up to 4.2V
Operating mode: POWER, BYPASS
Supported resistance : 0.1 – 3.0Ω
Protection:low / high resistance, overheating, short circuit, reverse polarity
Connector type: steel 510, gold-plated pin, spring-loaded
Screen / diagonal: no
Micro-USB port / charging: no
Color: see photo below

Lumi Tank
Case material: plastic – stainless steel Atomizer
type: maintenance-free
Evaporators: 0.3Ω
Capacity: 4ml
Diameter: 24mm
Height: 44mm with drip tip
Connector: 510, gold-plated pin
Weight: 19g
Color: see photo above
Options
– Lunar mod
– Lumi Tank
– spare silicone plug
– user manual
– warranty card

A few words about the whale as a whole. Perhaps these two friends are two boots of a pair – both plastic, weightless – it seems that both are disposable.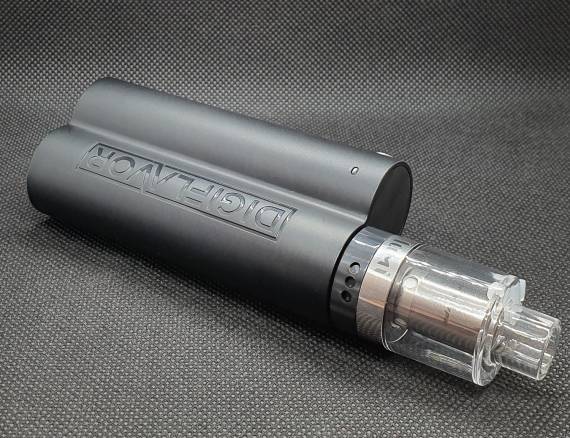 The complete non-service is exactly one-time – a simple plastic "cheap thing", the price of which, in my opinion, should not even affect the final cost of the set. This may be suitable only for exploring the world of vaping – the principles are there, the basics – well, you understand.

It is refilled from above – just remove the silicone plug. The capacity is good.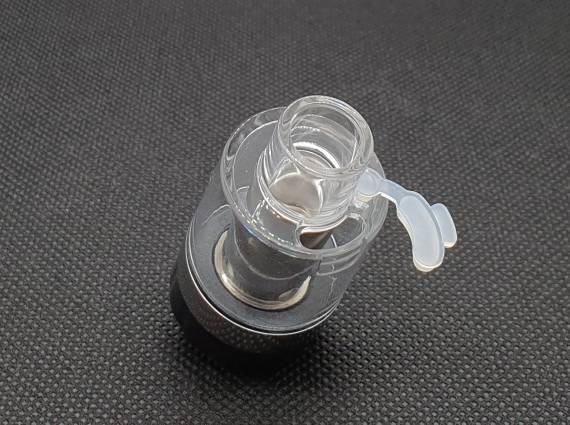 The non-replaceable evaporator is executed on the cantal, the resistance is "average". As you guessed, and the taste of this gizmo gives the appropriate – absolutely quick result. Well, perhaps the other was not to be expected. I think this is not particularly upsetting for you, like me – it is unlikely that anyone was going to buy a mod with a tank.

Plastic tightening adjustment ring; air intake with fully closed openings is available. Moreover, in the same position, the puff turned out to be quite loose, but not so directly "through".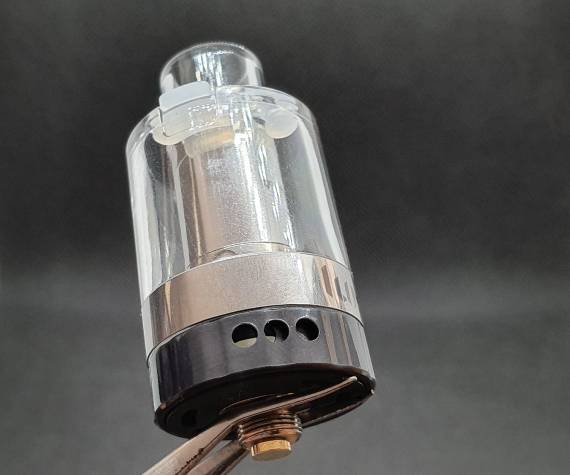 Boxing mod little thing is much more interesting. Tactilely pleasant plastic (absolutely odorless), a minimum of decor and a rather original profile – this is not all that our hero can boast of. By the way, due to the fact indicated by the latter, one of the foreign surveyors, not embarrassed in expressions, "destroyed" the device, explaining that stealing is a sin. You see, Squid Industries has long been born, and possibly "patented" such a form factor))), its Double Barrel. As for me, this situation smacks of infantile behavior – now it is no longer fashionable to blame someone for copying. Moreover, such a form factor is simply determined by the location of the batteries. In short, leave this topic.

Ergonomics is quite successful, but there is a small nuance, we will return to it later. Since plastic acts as the main body material, the weight is naturally the lightest. But this left its unpleasant imprint, and we will return to this later too.
The landing pad is steel, but very shallow. Her small lift is enough so that the atoms do not crawl along the body. By the way, there is a metal insert at this end, as well as at the bottom. Maximum landing capabilities 25mm.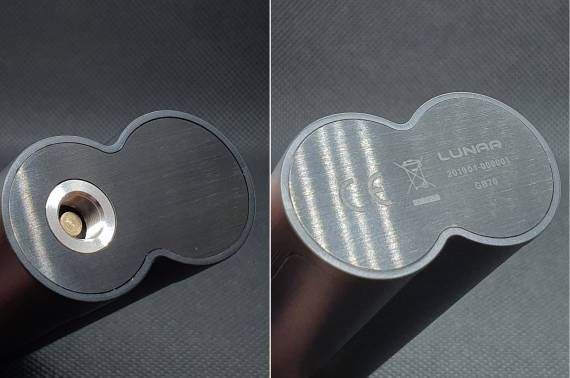 Our guest in a pair is more suitable drips, small tanks and MTL atomizers. Looking ahead, I'll say that he works with them in tandem much better.

The control panel has meager functionality. The fire button is small, made of metal. The move is smooth, the click is barely audible, for some reason it seems to me that her life span will not be particularly long. Just my subjective feelings) Landing tall – this is the only obstacle to excellent ergonomics when operating with the index finger. The fine dot of the LED indicator next door, the light is bright, but not too much.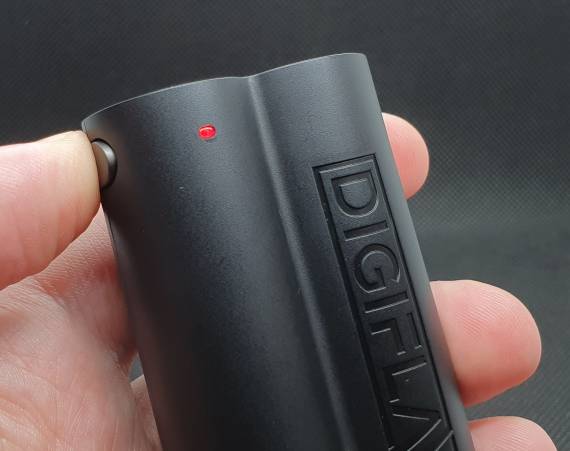 Access to the battery compartment is blocked by a plastic cover with magnets. There is a slight backlash, but it is more technological. In general, I even liked how this element was executed – everything sits securely, does not creak, there are recesses for comfortable opening.

The batteries here are hooked in parallel. Negative contacts are tightly spring-loaded and a little island, therefore, they can neglect to braid your batteries. Oil in this regard is added by the tape for comfortable extraction – it is located right next to the negative contacts. It would be better if it was done at the very base, where positive colleagues do not protrude from the case and the probability of damage to the batteries will be minimized. However, ce la vie.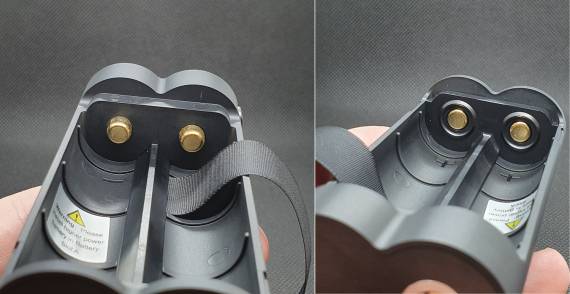 And then the "ill-fated sticker" inside enters the frame. I apologize — I didn't specifically photograph her separately — I simply could not assume that she would provoke such a violent reaction in the camp of surveyors. The fact is that the developers recommend (literal translation) "to install a more powerful battery in slot A". And then it began – "yes, who are they," "yes what are they thinking about," "yes they are oh … whether" – I quote the reviewers again. In part, I understand their indignation – they say the manufacturer "as it were" recommends (or better suggests) the use of "different" batteries for some characteristics. But is it worth it to "bomb" in this regard – as for me, definitely not. Of course, I am an ignoramus in electrical matters – but it's also a no brainer that identical batteries should be used in mods (especially with parallel connection), preferably even from the same batch. And I do not consider this a call to do otherwise. It is likely that with this the developers wanted to say that only with a battery inserted in this slot can a mod operate on only one battery. Just spelled it out clumsily. Okay, let's move on.
The functionality of our guest is rather meager – it is understandable. However, there are already three modes of operation – 3.2 / 3.5V / Bypass (red / blue / green). They are changed by threefold pressing, the choice is duplicated by the glow of the indicator. In addition, the mod turns on and off by pressing five times, plus you can check the remaining battery charge by double pressing.

On the sub, I did not like his work – it starts for a long time, frantically does not want to fry. Well, okay – after all, he is clearly not for the latter. But even a drip with a resistance of 0.3Ω, as well as the complete tank, he accelerated for a long time. Okay, I thought, and continued testing on cigarettes. And here he just showed himself pretty well. By the way, the bypass behaved quite adequately, and yes, there is a difference when changing modes. If you are interested in a moment with a low voltage of one of the modes – 3.2V – it sucks up banks to 3.1V. And yet – since the case is made of plastic, the temperature threshold for the control chipset is set at 65 degrees Celsius. Therefore, he will occasionally leave in defense, for some it may even seem that often.
Impressions
A very controversial instance. On one more often weights are light weight, the quality of materials and workmanship, as well as decent ergonomics, on the other a rather sluggish work at a more or less low resistance. The saddest thing for me is that some reviewers, taking advantage of their popularity, buried him for no reason. Rather, it's better to say for something completely different – not for work, but for "ephemeral" nit-picking – one for copying the form factor, the other for the ill-fated sticker, etc.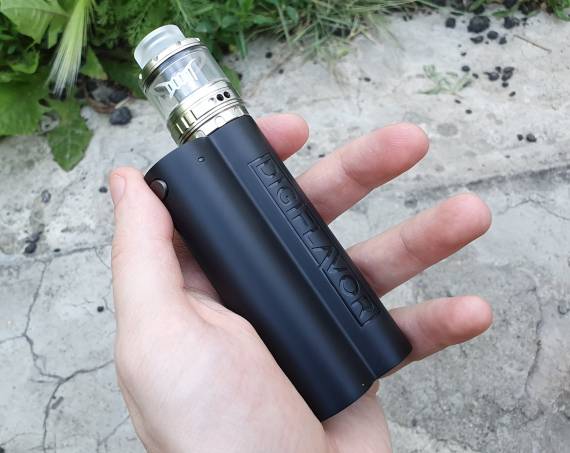 A great advantage of the mod (and the set too) is the price tag – it is just cheap. And it's up to you to decide which bowl of scales will outweigh. I can still recommend it to lovers of measured soaring, however, only for single-spiral atomizers without fat content, and even better for cigarettes. Although the connection with the latter is still a "pleasure". Unless you are looking for cheap autonomy in this regard.