ASAP v2 0 from the young promising team Steam Box Mod.
ASAP v2 0 from the young promising team Steam Box Mod. Squonker, as we used to see him
Hello again, dear vapers and connoisseurs of delicious electronic steam. Once again, we continue to look for interesting models, perhaps not very, but this is the tendency of the modern vaping market. If something new appears on the horizon, then we must definitely find out about it, which means we will always be aware and will know what is happening in the world. Today we have a company that first gets into our reviews. Glad to introduce you to Steam Box Mod, this is a very young, one can also say "green" company, which is not particularly known to the world vaping community, but oddly enough, it already has models that are slowly gaining popularity and will soon be recognized more often not only at exhibitions, but on interesting models. Today I would like to introduce you to a box mod from a company, or rather not a box mod, but to a squonker from a company called ASAP of the second version, which is practically no different from the first version. This model, like most squonkers, is made of plastic using the 3D printing method, in general, we all saw this, and there is nothing interesting about it. But not everything is so sad, there are some points that you should pay attention to, first of all, this is the start button, but more on that later. Go…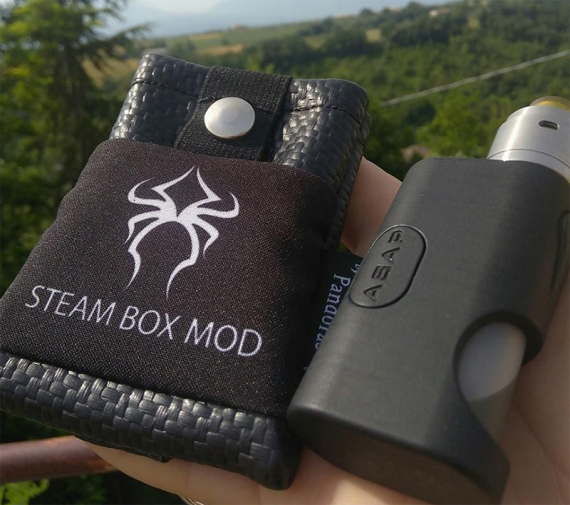 Well, for starters, let's see how the guys from the Steam Box Mod present their device to us . The mod comes in a small black box with a logo on the lid, you will not find any more inscriptions. Opening the cover, you will immediately meet a certificate of authenticity, which will indicate the version of the mod, serial number and other information regarding the device inside the box, as well as a handwritten autograph of the creator of this device. Well, the equipment is rather meager, in addition to the squonker and the bottle for the liquid, you will not find anything else in this box.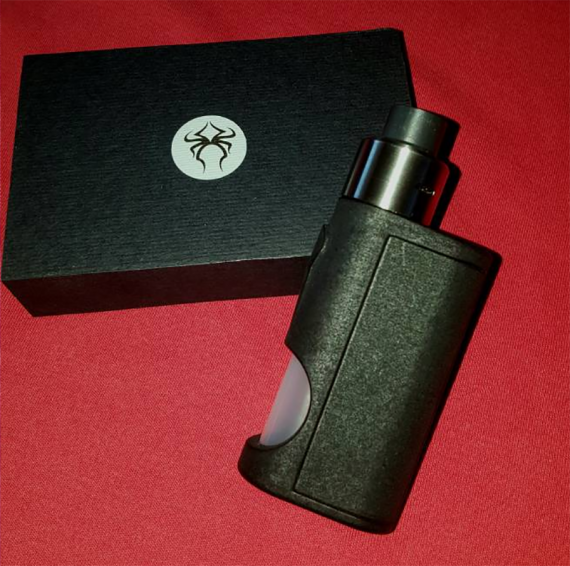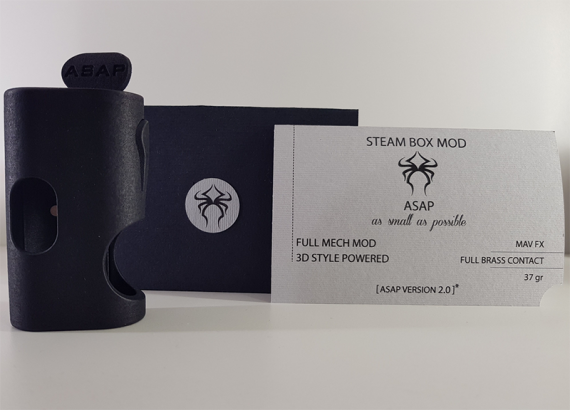 As for appearance, then everything is simple and familiar. Most mods in the same category are similar to each other. But there is one unusual moment that I have not seen in squonkers before, there were the same solutions on ordinary mechanical mods, but I don't remember the squonker. Location and design of the start button. It is as if "rooted" in the housing and is viewed as one unit with the housing. An interesting, of course, solution, but still, such an innovation in brackets does not cost 170 Euros , I, of course, understand that silver-plated or gold-plated boards that can be used in the design also cost money, but still the price is probably overpriced. A huge number of colors are offered. The main material from which the device is made is heat-resistant plastic. Device Dimensions –72mm x 41.5mm x 24mm.
What else is interesting here? Well, firstly, it is worth designating the battery factor format, in our case, the factor factor 18 650 is used, and secondly, the MAV4 FX connector is used in this design, well, a complete bottle with a capacity of 6 ml from NoLeak . Well, that's probably all, thick and tasty for everyone, and may steam come with you!