Artery PAL Stick – transformed beyond recognition
Artery PAL Stick – transformed beyond recognition
And again, AIO sets absorb our attention. Before we had time to cool off from the marathon – so here you are, please sign it.
This time, the company Artery glanced at the front pages of our portal. Of course, you are familiar with the inclinations of the manufacturer, as well as with the PAL line of devices. How many of his reincarnations we saw, but this is the first time with him. Now he has become a vape stick, or rather vape foam.
Artery PAL Stick

Dimensions: 119 x 18mm
Weight: unknown
Case material: aluminum alloy + plastic
Power: built-in 750mAh
Cartridge capacity: 1.6ml
Evaporator resistance: 0.6 / 1.0Ω
Output power: up to 23W
Operating mode:POWER, VV
Protection: against low / high resistance, from overheating, from short circuit, from overcharging / overdischarge
Connector type: magnetic
Screen / diagonal: no
Micro-USB port / charging: yes, charging current 0.8A
Color: see photo below

Options
– PAL Stick
– replaceable evaporators 2pcs 1.0Ω (one pre-installed)
– spare origins
– spare tank cap
– USB cable
– user manual
– warranty card

As you can see, the designers sweated a lot over the external appearance of the device. Here you have a window for controlling the liquid in the form of a drop, and perforated inserts for a more comfortable hold. It looks quite presentable to itself, but some may be frightened off by such dominance by elements.

Dimensions should be called average – it's hardly worth counting on stealth.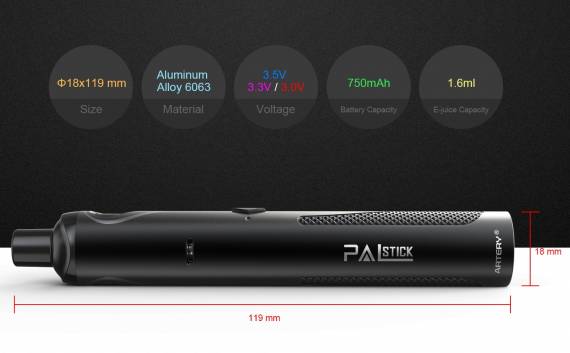 The color scheme from the start is not bad – and there is a classic, and there are bright variations.

The cartridge is crowned by a removable cover; after its removal, refilling will be possible. For something in the box is a spare copy. The tank capacity is small.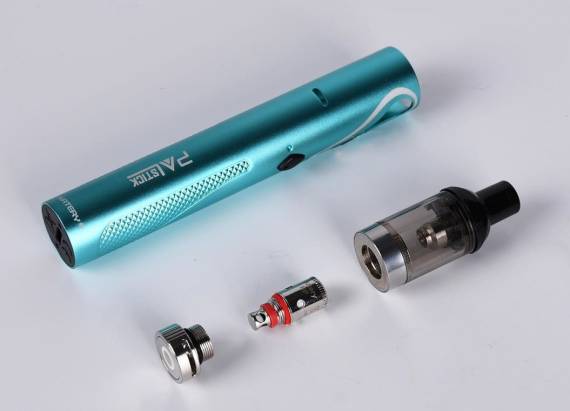 Replaceable evaporators are already familiar to us – such was the last fall of the second version.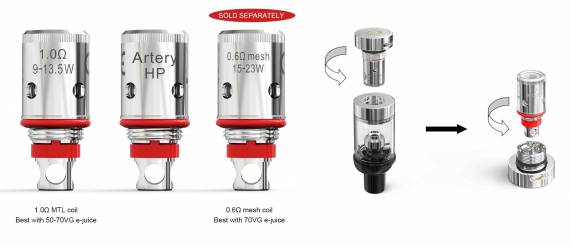 The cartridge is fixed with a magnetic connector. At the very base you can also see the familiar blower adjustment ring.

The main body does not fit in the most capacious built-in battery. However, if you take into account the dimensions, then it is still nothing. Moreover, the last charge cycle will last less than an hour. The developers identified the causal connector at the bottom of the device.

The fire button seems tiny; an LED indicator is built into it. It will signal to the owner about the remaining battery charge.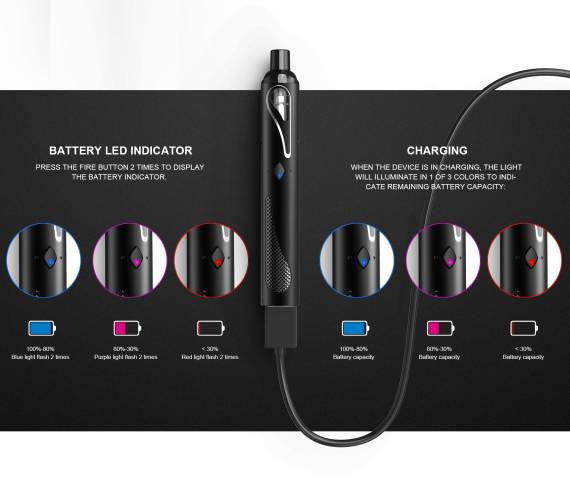 In addition, the only button is charged with changing the output voltage. In total, the manufacturer provides three modes – 3.0 / 3.3 / 3.5V.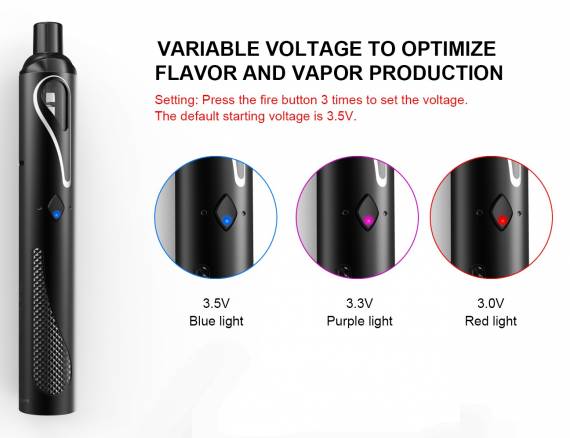 The price is $ 30. While this figure should not be paid special attention, because this is the only price tag that I came across.