Vapecige VTX200 DNA250C Squonk Kit
Vapecige VTX200 DNA250C Squonk Kit
With genuine interest I begin to get acquainted with a rather interesting instance. And in my opinion, it is interesting in two things at once, which is, first of all, the eminent control chipset, and the second is the device's accessory segment. Today there are not many squonkers for two batteries, and even more so with such "brains" counting them on the fingers.
Vapecige VTX200 DNA250C Squonk Kit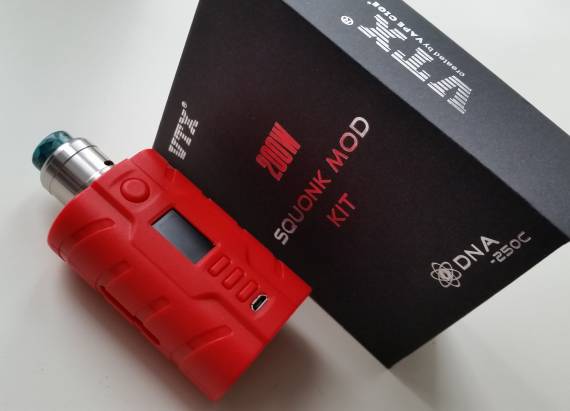 Dimensions: 81 x 55 x 38.5mm
Weight: 75.5g Case
material: plastic
Power: 2 x 18650
Chipset: DNA250c Bottle
capacity: 7ml
Output power: 1 – 200W
Voltage range: 0.2 – 9.0V Peak
current: 30A
Operating mode: POWER, TC (NI200, SS, TI), TCR, BYPASS, Reply, WattBoost
Temperature range: 200 ℉ – 600 ℉ / 100 ℃ – 315 ℃
Supported resistance: 0.05 – 3.0Ω
Protection: against low / high resistance, from overheating, from short circuit, from reverse polarity, from overcharging / overdischarging
Connector type: 510 steel, gold-plated pin, spring loaded
Screen / diagonal: yes, color, 1.3 "
Micro-USB port / charging: yes, charging current 2A
Update / firmware : yes
Color: see photo below

VTX RDA
Case material: stainless steel
Atomizer type: RDA
Capacity: 2ml
Diameter: 25mm
Height: 29mm with drip type / 22mm without drip type
Connector: 510, gold-plated pin
Weight: 39g
Color: steel only
Options
– VTX200 DNA250C Squonk mod
– VTX RDA
– spare origins
– spare screws
– screwdriver
– squonk pin
– USB cable

I'll start with the drip and, perhaps, I will run through it very casually, because it does not deserve special attention. However, without it, this device, unfortunately, is not for sale.

It looks very simple, although you can't make any claims to it in terms of design – everything is fine. Neat, discreet, small in size – in a word, this place is only in the whale.
Dryp type 810th, made in a fashionable honeikomb style, its color does not particularly fit with the general decoration. The internal processing of the dome is spherical, there is no risk, although it is he who is responsible for adjusting the airflow, by the way, the lower one. However, even without them, the adjustment process is quite comfortable. Air intakes are paired, each 2.5 x 6 mm in size. The puff, to my surprise, turned out to be quite free, noise, but rather a whistle, but it turned out decent.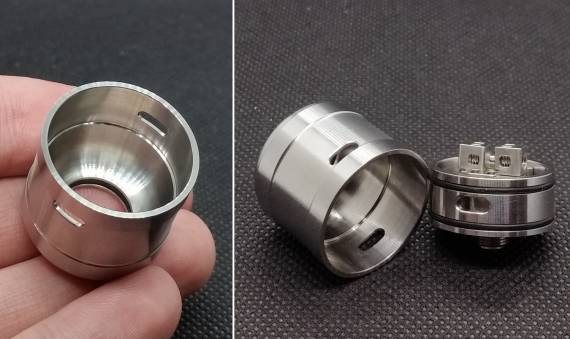 The deck is quite easy to maintain, but has a number of nuances.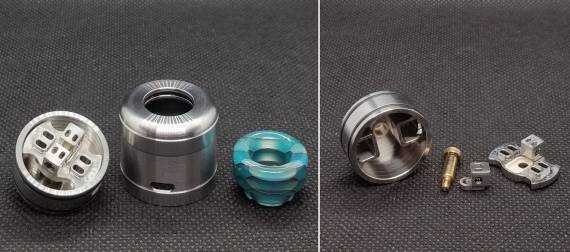 There are two racks in total, in each of which there are already three holes for fixing two spirals. The fix, you guessed it, is wrong. Therefore, the legs of the coils during clamping will be wrinkled. But this is not all – the distance between the corresponding openings of all-nothing is about 5mm. That is, you must understand that you cannot install something more or less multi-turn here. In general, the service does not take much time. There is plenty of space for laying cotton wool – in this regard, everything is fine, spend a few seconds on its laying. The coils are blown through a pair of double holes.

The flavor is average, of course, I did not expect it to be excellent. As I said at the very beginning – this is a whale specimen, and it is just for a set that it suits. If you do not have excessive claims to the taste and eminence of the brand that brought it to light, then it may well become sufficient for you.

The capacity of the latter, seeming miserable, is actually not quite so, since the whole construct is, as it were, suspended above the bottom of the base. Plus, in the box there is a squonk pin – this is a squonk set after all. True, for some reason it is not preinstalled)