Vapor Storm S1 mod – bullshi
Vapor Storm S1 mod – bullshit … finish with under AIO
Today I announce the end of our marathon. This is partly dictated by force majeure circumstances (I suppose you already noticed that we became even less likely to meet). Probably this reason should be considered the main one. However, there is a second – we still reached the finish line. 42 two long days (by analogy with the length of the marathon distance) we honestly continued our procession. We still crossed the treasured finish line, breaking through the festive ribbon with our brain overflowing with information. My congratulations and thanks to all those who ran alongside us.
I don't offer to close our action with an AIO kit – it lacks a cartridge in the kit, but I suppose it should be attributed to this segment.
Vapor Storm S1 mod

Surely you remember the previous model of this manufacturer under the name M1 Mod . So now we are dealing with an improved version of this instance.
Dimensions: 60 x 36 x 21mm
Weight: 46g Case
material: aluminum alloy + plastic
Power: built-in 800mAh
Output power: unknown
Voltage range: 3.3 – 4.2V
Operating mode: POWER, VV
Protection: against low / high resistance, from overheating, from short circuit, from overcharge / overdischarge
Connector type: magnetic 510th
Screen / diagonal: yes, 0.49 "
Micro-USB port / charging:yes, charging current 1A
Color: see photo below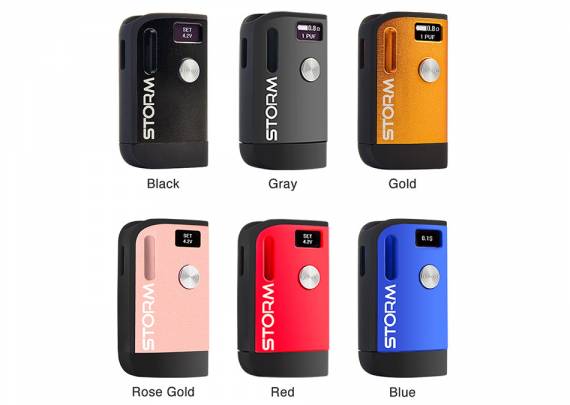 Options
– S1 mod
– connector
– USB cable
– user manual
– warranty card

As you can see, our guest today looks a little different from its predecessor. This is the same rectangle devoid of sharp corners, except that it has lost a deep notch in the front of the device. It seems that there is no search with decor.

Dimensions are quite compact – you can count on stealth, but you must take into account the fact that with the installation of the atomizer, the length will grow.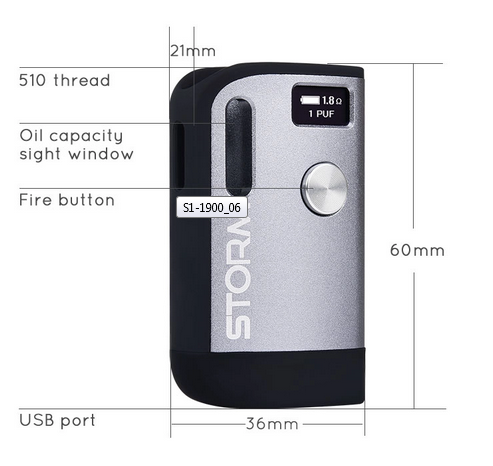 The color scheme is not scarce, and there are bright summer variations.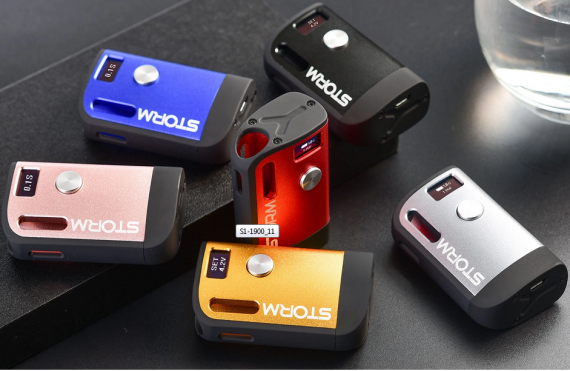 As before, the device can take onboard atomizers in diameter not exceeding 11mm. For convenience of landing in the box there is an adapter for the 510th connector. After all this construction is fixed with a magnetic connector.

The slot to control the fluid inside the atom is naturally there.

The built-in battery has not changed itself and is still not particularly capacious. But she was destined to charge a little less than an hour, which is quite good. The connector for these purposes, the developers have identified at the bottom of the device.

The control panel looks neat. The fire button is not particularly large, the profile is rounded. Decent ergonomics are "spoiled" by its low landing. The display is small, but quite informative. So he can show you the current battery charge, and the resistance of the evaporator, and the number of puffs.

In addition, our hero knows how to be a varivolt – in total, the manufacturer provides three modes – 3.3 / 3.7 / 4.2V. Information about the selected mode is also displayed on the screen.